07.06.2022
The results of the All-Russian student competitions in all-style karate in Kazan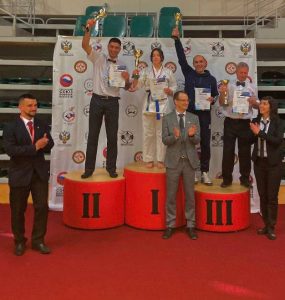 On May 27-30, 2022, the "All-Russian student competitions in all-style karate" were held at the "Ak Bars" martial arts palace in Kazan as part of the year of "Russian-Chinese friendship".
The competition was attended by 160 athletes representing 15 educational institutions of higher and secondary specialized institutions from the regions: the Republic of Tatarstan, the Udmurt Republic, the Republic of Mari El, the Krasnodar Territory, the Orenburg Region, the Kirov Region, the Kostroma Region, the Sverdlovsk Region.
Competitions were held in two disciplines: kumite (fights) and kata (formal exercises). During the competition, the team places were distributed as follows:
1st place – Kazan Volga Federal University (Republic of Tatarstan),
2nd place – Yelets State University (Lipetsk region),
3rd place – Interregional Open Social Institute
(Mari El Republic),
3rd place – Kazan State University of Architecture and Civil Engineering (Republic of Tatarstan).