15.08.2022
russian Karate legend Aleksey Shturmin held a master class in the city of Shakhtersk (DPR).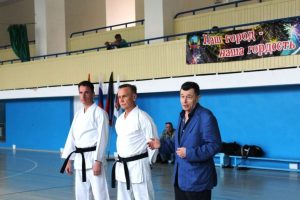 On August 12, Aleksey Borisovich Shturmin, Honored Coach of Russia, sen'e black belt holder, 9th dan karate master, founder of the Central Karate School, founder of the first USSR Karate Federation, visited the city of Shakhtyorsk.
In the sports complex "Olimp" he held a master class with young karatekas of sports schools and clubs in the cities of Shakhtyorsk, Donetsk and Torez.
The event was attended by invited guests: Ramil Gabbasov – Executive Director of the Russian Union of Martial Arts; Magomedsalam Khalilov – head of the RSBI of the Republic of Dagestan and Yuri Martynov – president of the All-Style Karate Federation.