24.11.2019
Opening ceremony of the First All-Style Karate World Championship held in Moscow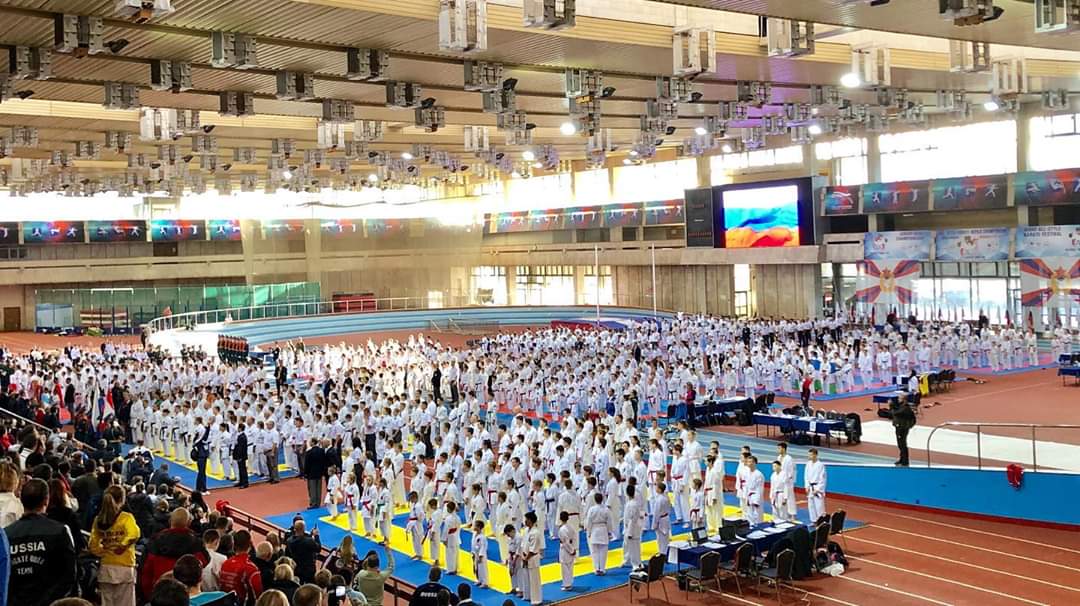 On Saturday, November 23, 2019 the opening ceremony of the First All-Style Karate World Championship, the Junior World Championship (IASKF), and the International Festival (IASKF) was held out in Moscow at the CSKA athletics and football center.
In attendance were: Boris Grishin, director of the Department for State Regulation in Sport and International Cooperation of the Ministry of Sport of the Russian Federation; Alexey Sturmin, member of the Presidium of the Supreme Council at RSBI; Farkhod Muhammadiev, representative of the Asian continent, Chief Judge of the International Association of Jang Sanati in the Republic of Uzbekistan; Georges Guy Nung, coordinator of the African continent at IASKF; Alexander Dudoladov, representative of the European continent, President of the Latvian Federation of All-Style Karate; Ramil Gabbasov, President of the IASKF, President of the All-Style Karate Federation of Russia, Executive Director of the Russian Union of Martial Arts; Andrey Merzlikin, advisor to the RSBI Co-Chairs, Major General, Hero of the Russian Federation. Participants, mentors, and representatives of delegations from all 36 countries took part in the ceremony.
Another important event took place as part of the opening ceremony: the admission of young participants to the ranks of the All-Russian military-patriotic movement "Unarmia".
The ceremony ended with performances of representatives of the Uzbek martial art Jang Sanati.
More than 1,500 athletes from 36 countries are taking part in the competition.
For information support, please contact the press center:
Tel.: 8-962-905-53-79
Email: [email protected]
Grigory Mishnov – The Deputy Executive Director of Public Affairs at RSBI.