08.11.2022
FROM OCTOBER 30 TO NOVEMBER 5 , 2022 THE WORLD CHAMPIONSHIP AND the world junior CHAMPIONSHIP, AS WELL AS THE INTERNATIONAL IASKF ALL-style KARATE FESTIVAL WERE HELD IN THE CITY OF OREL, russia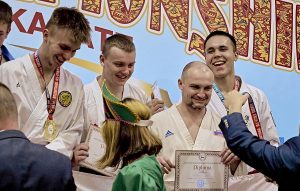 The competitions were held in three groups of disciplines of all-style karate: full contact, limited contact and full contact, means of protection.
The participants of the competitions were representatives of Abkhazia, Armenia, Greece, Iran, Kazakhstan, Cuba, the Republic of Belarus, the Republic of South Ossetia, Russia and Turkey.
The World Championship gathered 395 participants, the World Junior Championship — 1541 and the festival — 237 people.
The organizers of the competitions were the International All-Style Karate Federation (IASKF), as well as the All-Style Karate Federation of Russia with the support of the Ministry of Sports of the Russian Federation and the Department of Physical Culture and Sports of the Orel region.